Camp Masonry is Proud to Host These Fine Degrees, Tyled Within The Walls of A Frontier Style Fort.
Current Dues Cards Are Required to Attend all degrees except the DeMolay Degree. You Must Be Under Jurisdiction of a Grand Lodge Recognized by the Grand
Lodge Of Ohio F&AM for admittance. If You are unsure your membership is included, please contact your lodge secretary before making your Camp Masonry
2018 plans. If you are a Regular Master Mason in Good Standing, and would like to join The Shriners, you may petition on site. Initiation fees for Zenobia
Shriners are not included in the admission ticket price.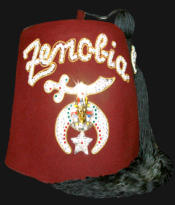 The Shrine Ceremonial
Friday, Aug 9th 8:00PM
Zenobia Shriners, charted by Shriners International, part of the "Greatest Philanthropy in the
World", "Shriners Hospitals for Children", will be creating new Nobles at Camp Masonry. The
Ceremonial will be open to Shriners and Master Masons who are "Elected Petitioners". Call or
email the Recorder at Zenobia 419-661-9200 recorder@zenobiashriners.com for petition or
information.