Camp Masonry is Proud to Host These Fine
Degrees, Tyled Within The Walls of A Frontier
Style Fort.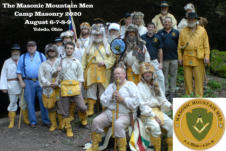 Current Dues Cards Are Required to Attend all degrees.
You Must Be Under Jurisdiction of a Grand Lodge
Recognized by the Grand Lodge Of Ohio F&AM for
admittance. If You are unsure your membership is
included, please contact your lodge secretary before
making your Camp Masonry 2020 plans. If you are a
Regular Master Mason in Good Standing, and would like
to join The Valley of Toledo Ancient Accepted Scottish
Rite NMJ, you may petition on site. Initiation fees for The
Valley of Toledo are not included in the admission ticket
price.

4th Degree- "Builder"
The New 4th Degree of the Scottish Rite NMJ Presented by
The Valley of Toledo
Friday, Aug 7th 8:30PM
Experience the newest initiatory conferment of the Scottish Rite as a new Scottish
Rite Candidate, or as a seasoned traveler. Petitions for new or duel membership
will be available on site, event ticket does not include initiation fees, and valid
AASR dues cards are necessary for all existing members to participate. Contact
the Valley of Toledo Secretary, Jeremy Z Sharninghouse at
secretary@toledoaasr.com to RSVP

The Empty Chair Degree
Presented by Petty Officer 2nd Class Br. Andrew Guthrie,
St. Mary's Ga.
Friday, Aug 7th
The Empty Chair Degree is an Honorary Degree bestowed upon a Brother
who served in the Armed Forces in remembrance of his service to the
Country and His Masonic Service. Also for all Military Veterans who have
gone on to the Celestial Lodge. This is a Memorial and Solemn Ceremony of
Celebration to a life lived in Service and Patriotism to our Country, Masonry
and all of Mankind.